Seattle to Grand Ronde: The Plan
After finding suckers to ride with, I began planning. I wanted to ride down the coast rather than inland, but didn't think we had time to go all the way around the Olympic Peninsula. So I decided to take a ferry from Seattle to Bremerton, cut across to the coast, then head south. I planned on doing anywhere from 35 to 85 miles per day.

Here is the planned itinerary. All page numbers are from Kirkendall & Spring, _Bicycling the Pacific Coast_, 2nd Edition, The Mountaineers, 1990.
29 June 1994 (Wednesday) approximately 35 miles

Take the ferry from Seattle to Bremerton (or perhaps Southworth. Haven't decided yet.) Ride to Potlatch State Park. (Map, pg. 59)

30 June 1994 (Thursday) 73 miles

Ride to Twin Harbors State Park (Route, pp. 63-68)

1 July 1994 (Friday) 85 miles

Ride to Fort Canby State Park (Route, pp. 68-75)

2 July 1994 (Saturday) 57 miles

Ride to Nehalem Bay State Park (Route, pp. 72-75, 96-102)

3 July 1994 (Sunday) 75 miles

Ride to Grand Ronde. (Route, pp. 102-109)

4 July 1994 (Monday) 0 miles

Party, Dude!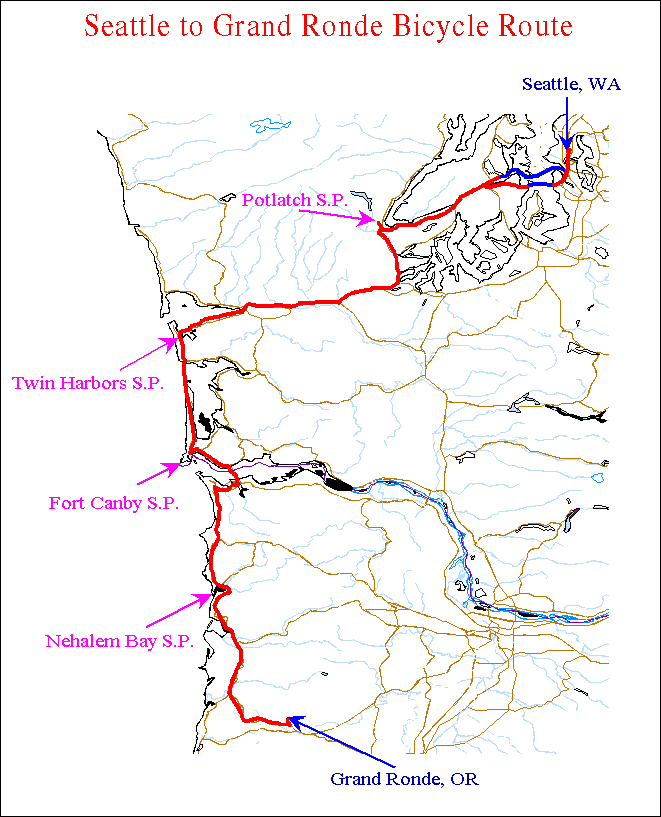 ---
Previous: The Idea | Next: The Story
---
Go to the Cascade Bicycle Club Home Page.
---
This page maintained by Kevin Fink kevin@fink.com