Images of Tire Graveyard with Reduced Resolution
Many tires can be found on the bottom of Lake Union near the APL/UW Dock. Apparently, they fall off of the sides of docks, where they are used as tires bumpers. This image shows several of these tires, in order to demonstrate the fine-scale imaging capabilities of the sonar system.

The smoothed images were created by linear interpolation in azimuth. The images were not smoothed in range. The non-smoothed images (and all images in range) were created using pixel replication.
Tire Graveyard (0.09 degrees by 0.5 cm)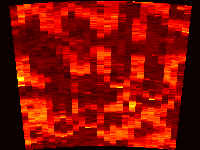 Tire Graveyard (0.52 degrees by 0.5 cm)
Tire Graveyard (0.52 degrees by 0.5 cm) , After Smoothing
Tire Graveyard (0.52 degrees by 5.0 cm)
Tire Graveyard (0.52 degrees by 5.0 cm), After Smoothing
---
Kevin Fink's Home Page (http://www.fink.com/Kevin.html)
kfink@scn.org